Call Us Today At... (405) 639-4653
Looking To Sell Gold in Oklahoma City?
OKC Gold Buyers provides honest, professional service for those looking to sell gold, silver, platinum or estate jewelry in Oklahoma City, Edmond, Moore, Yukon, El Reno, Piedmont and all surrounding areas. We've had customers drive all the way up from Ardmore and all the way down from Stillwater. Our Precious Metal license is #PM007694.
We are fully licensed and bonded and have an A-Rating with the Better Business Bureau. Our offices are designed to be secure and professional and offer fast service.
We are interested in any items that have solid gold, silver or platinum in them. Nothing is to big or too small as our smallest purchase has been $1.00 and our largest purchase has been $55,000.00. We accept items in any condition…including broken or twisted. If we can prove it has gold, silver or platinum in it, then we will buy it.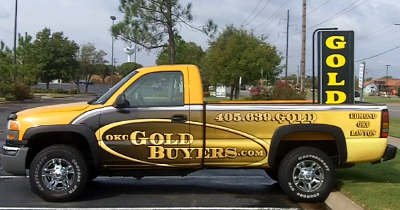 OKC Gold Buyers in Oklahoma City is located at I-240 and S. Walker Avenue, right across the street from Chase Bank.



Address

: 7390 S. Walker Ave, Suite H, Oklahoma City, OK 73139
Please see the Map Below for directions to our Oklahoma City office.
---
Customer Reviews…
"Today, me and a friend made an appointment with Chase who works at OKC Gold Buyers. We sat down and visited with him while he tested some old gold jewelry that we no longer had a use for. Well, we walked out of that place with a $954.00 check in hand. This money was much needed! Thanks OKC Gold Buyers!! I'll be back, for sure!" ~Karen
"I've never sold gold before, so when I had a few gold chains to sell I went to a pawn shop to see how much they would give me. At first the guy offered me $425, I said no thanks, and then he said "let me check my charts". After about 2 or 3 minutes he offered me $525 and said that I would not get more than that at any other place. I waited a few weeks and called Gold Buyers! I was in and out office within 15 minutes, and they gave me top dollar for my gold! $675!!!" ~Jimmy
"Very informative staff and super friendly. I came in the day before I sold my gold to question on conversions with ounces and dwt and what pay was. They were very helpful and immediately pulled up prices for me and explained everything. I felt very welcomed and comfortable when i walked in. I came back the very next day to sell my gold and had a great experience then as well. I am now looking through old family jewelry to find more so i can back. Very fun getting paid! Thanks guys! You made my day!"~Kristen
"I was so happy to find a local gold buyer to sell my gold to instead of a company I had to mail my gold to and trust. It was simple and I got paid on the spot…$1,100!" ~Gina

"We all know how popular gold is nowadays. I strongly recommend selling your gold to Oklahoma City Gold Buyers. They have the best gold buyers and they are highly professional and friendly to work with if you are in OK and surrounding area." ~Google User
"Needed to sell my necklace for a fair price because I needed the money that bad. Of all the gold buyers I went to, OKC gave me the best deal and true value for my jewelry. Nice to get honest and good business from here. Thank you so much!" ~Gregory

"OKC Gold Buyers give you straight what your gold is worth. Very good service, worth the travel and wait. Thanks! will do business with you again". ~Jean
---
We are Oklahoma's premier gold buyer. We over-deliver on everything we do.
OKC Gold Buyers is a Cash For Gold company. Our main offerings include: locations for our clients to sell gold coins, top cash for gold prices, cash for silver jewelry, and silver coin buyers.